So, where've I been?
I am so sorry - I have two excuses for failing to bring you either my own, or anyone else's, bouncy boobs over the last couple of months (sheesh, has it really been that long!?)
Excuse 1) - I have been poorly.
Boring!
Excuse 2) - I have been busy!
Y'all know of my hubby's sites
My Boob Site
and
My BBW Site
, well, I was feeling a little left out* and so have created
My Penis Site
!
Well, what's sauce for the goose, an' all that.
Look, I know you lot might not want to hear and see about my never-ending quest for cock** but you don't
have
to look, do ya?!
*OK, I have no reason for feeling jealous, really, as he has just blogged what he claims to be his fave pic of me.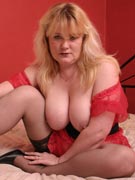 **But, what is not to love about hot, hard, moist, suckable, fuckable, juicy, long, stiff, throbbing dick-meat?